When ukrainian-libanonian Viera Karam moved to Finland to study, she let the startup world in Oulu whisk her away. Soon, she was helping organize events and finally ended up for paid labour as an entrepreneurial advisor.
The difference between the Finnish and Ukrainian entrepreneur worlds finally became clear to Viera Karam as she was talking with bathcoat-wearing startup-entrepreneurs at Polar Bear Pitching -event's back areas. For two years, Karam was a volunteer at the competition in which one holds a sales pitch of their company from an ice hole for judges.
"One gets introduced to different entrepreneurs and events related to the startup culture even though one does not think that they can be executed this fancily. The Ukrainian business culture is more traditional. But honestly – in what other place do people do this?"
Karam moved from Ukraine to Finland in 2017 when she started her studies in the international master's programme in Education and Globalisation. In Ukraine, she had graduated as a Bachelor of Linguistics. Soon after, volunteer work and Oulu's startup world swept her with it.
Karam has been a volunteer, a host and an organizer in not just Polar Bear Pitching but also in Startup Refugees -organization and Oulu's Startup Weekend. They have also given fond memories.
"I learned a lot, for instance, about what challenges refugees face when they come to Finland. Of course the people I've seen in the events have stayed in my mind. Some of them have become friends or colleagues."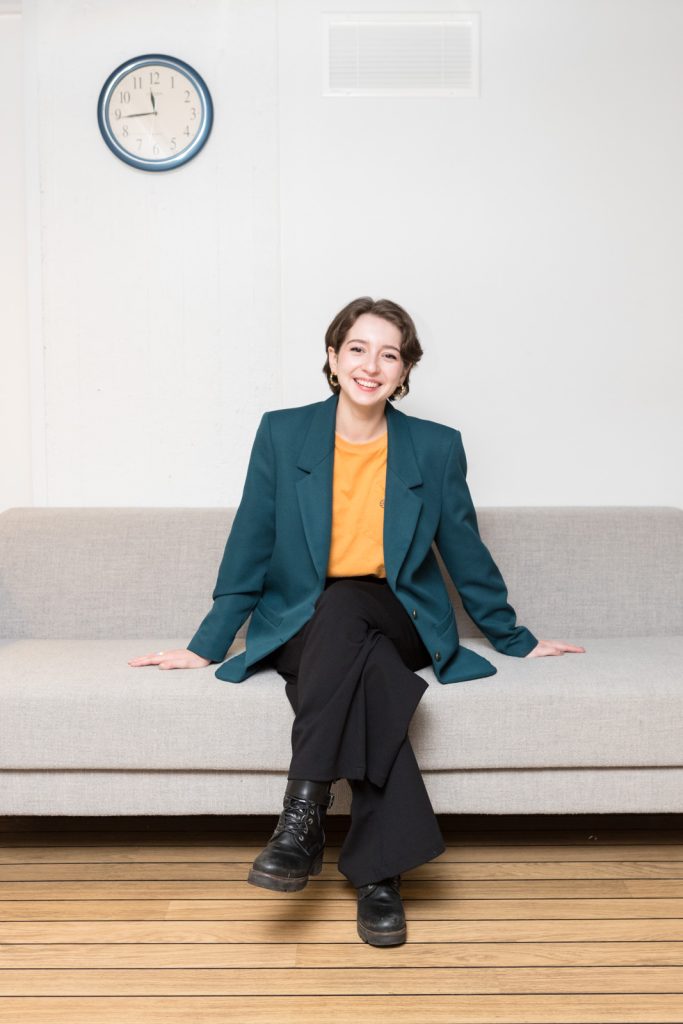 Networks grow as a volunteer
The activity beyond studies eventually led to paid labour as an international advisor at BusinessOulu. For the past two years, Karam has helped immigrants develop their business ideas all the way into companies.
"I don't think that I would have a career in Oulu were I not in volunteer work. Those times gave me a massive amount of contacts, and I met people who helped me at different stages of finding work. They could go through my applications or hint at free positions somewhere."
The contacts are crucial for anyone starting their career, but they are especially vital for immigrants.
"Usually people have to start from scratch when they arrive in a new country. Most of the time one does not know anything other than maybe their own partner and their friend group."
Karam thinks that volunteer work is a great way to develop personal networks in any type of field.
"I recommend volunteer work to anyone whether they are Finnish or a foreigner. I think that building networks is the most important part in addition to getting experience from it. The majority probably hope to get to a type of work that they can love. By experiencing different tasks, one finds out what they enjoy and don't enjoy doing. Overall, life is important to experience."
Organizations and startups could learn from each other
Education has been useful in creating a career even though the initial career path of linguist and educationist took a surprising turn. In BusinessOulu's video series Karam tells how studying has prepared her with the skills to face people from different backgrounds and to listen to their stories. Each immigrant's story is different.
Crossing personal boundaries and facing new worlds often causes something fruitful. Karam believes that university organizations and the startup world could learn something from each other.
"Universities benefit greatly from the fact that new talent constantly flows in and out. Fresh ideas emerge from this type of space. I hope that we can also create with startup entrepreneurs an environment where new faces and ideas are openly acknowledged. Student organizations could learn from startups and their fast adaptability to changes."
Karam has continued volunteer work with refugees, especially so when Russia attacked Ukraine.
"I speak the same language with the Ukrainian refugees and understand them. It is good if they have available local support. We have just founded the Association of Ukrainians in Northern Ostrobothnia, and we continue the development of the Ukrainian community in the Oulu area."
Karam is moving into new things – from company advisor for immigrants to a startup program coordinator. In the future, she focuses on the development of service structures of startup entrepreneurs.
"Of course I am still in the use of Ukrainians also as a service advisor."
Karam can speak Finnish fluently. She has not yet gone into an ice hole.
"I once went from a summer sauna to swimming on the last day of the summer. So far that has been cold enough of an experience for me."
*This text was originally published in Finnish on Oulun ylioppilaslehti issue 2/2023.
Original text by Maria Karuvuori, translation by Jere Laitinen
Pictures Oulun yliopisto / Janne-Pekka Manninen